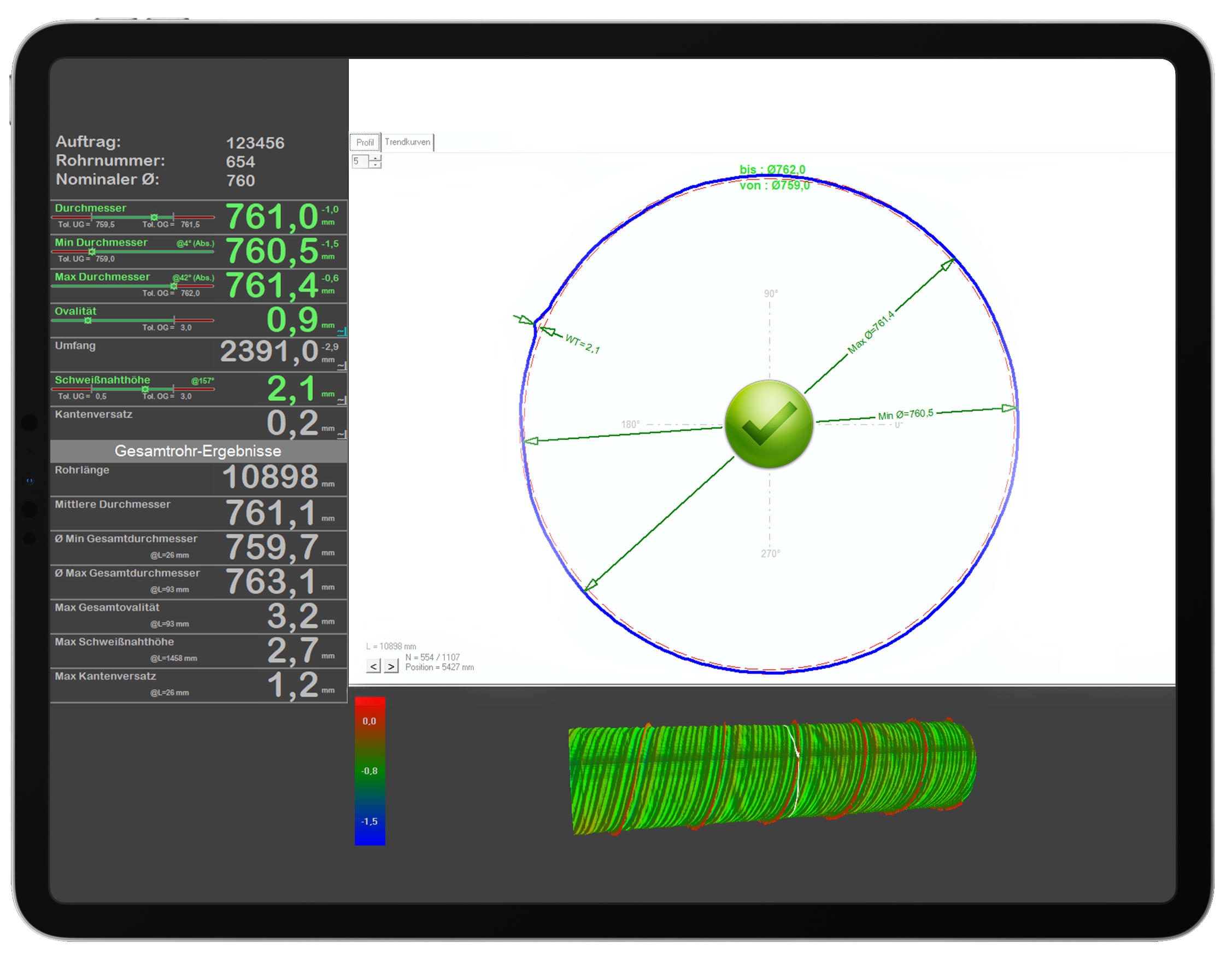 24st June 2022
Internal cross section measurement on pipes and tubes
Schmallenberg, Germany. MSG Maschinenbau's latest development focuses on measuring geometries of pipe cross-shapes. Following the API-Standards the new GMS-I (Geometry Measuring System for Internal diameters) enables a highly accurate measurement of internal cross-shapes and specific characteristics like global out of roundness, local out of roundness, max. diameter, min. diameter, peaking or flattening of Weldseam geometries, and counting.

The main features of GMS-I are listed below.
Wide range measurement
MSG's standard system enables the digitalization of internal pipe diameters from Ø200mm up to Ø1100mm with only one head. Besides this standard configuration the GMS-I can be configured to the needs of MSG's customers.
Unique developed circular laser
At the beginning of this R&D project MSG started developing a circular laser projecting a radial homogeneous line (according to thickness and intensity) onto the inner surface of hollowed products.
High reflective surfaces
All measurements during development process have been done on CLAD-pipes, which are hybrid pipes with internal high corrosion resistant materials like stainless steel. Because of the special developed laser there are no effects limiting the quality of measurement results.
Frequency and resolution
Because of the high-quality circular laser and optimized camera-resolution (4k) the GMS-I reaches scan frequencies up to 200 Hz with 2160 coordinates each scan.
Offline calibration
The calibration is done only once during commissioning. MSG's standard GMS-I reaches an absolute accuracy of +-0,1 mm.
Integration
Currently MSG will deliver two GMS-I for double sided internal geometry-scanning during pipe sizing operations coupled with expander technology developed by Dango & Dienenthal Maschinenbau GmbH. As part of a technology driven capex expansion program, one of the world's most innovative Pipe producers Eisenbau Krämer GmbH in Dahlbruch - Germany, will implement the new measurement systems into the final stages of pipe production. "These compact and highly accurate measurement heads enable the measurement of the internal pipe-diameters during the calibration-process over a large nominal range. The accuracy and performance of the GMS-I devices, especially on the highly reflective internal surfaces which has been an integral part for the development of EBK's new RollClad  MLP product, provide amazing and consistent results!", Bulut Gün, Head of Engineering at EBK says.

The next project focuses a live-measurement application inside an external-bending-press for pipes up to Ø2000 mm. In combination with MSG's know-how of mechanical construction about the past 22 years, they're delivering once more a tun-key-solution where the GMS-I will be mounted on a movable lance-portal.
Coming soon
Following the ideas of MSG's customers our R&D division is focusing on a wireless hand-held system of GMS-I for easy manual diameter-check on field.


The combination of mechanical know-how and MSG's well-founded knowledge of measurement applications on field, lead to reliable solutions.

Get physically in touch with this innovative measurement head at Tube and Wire in Düsseldorf Hall 6 / C02

For more digital information visit us on youtube, facebook, linkedIn, or on www.msg-maschinenbau.com.